Thomas J. Balestrieri
My Dear Friends at St. Anne Home,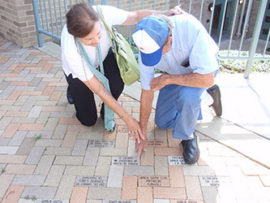 My sincere thanks to you and the administrative staff, the various nurses and aides, the dining services team, and the many behind the scenes support staff at St. Anne Home for the excellent care and kindness shown to my sister Grace during her stay at your facility. A special thanks also to the Felician Sisters and the Sisters from the Order of the Daughters of Mary who gave her and our family such comfort, particularly during the final days of her life.

Grace was pleased that her remaining time on earth would be spent in a Catholic facility, surrounded by Sisters and serviced by caring staff that would do anything they could to make her as comfortable as possible. The personal care and attention given to her during her stay provided great solace to our entire family. Please pass along my sincere gratitude to all who touched her life while at St. Anne Home, and May God Bless all of you.
With Sincere Appreciation,
Thomas J. Balestrieri