Pastoral Care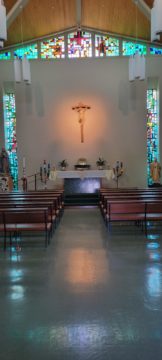 Comprehensive Pastoral Care
One of the most unique features of St. Anne Home is our comprehensive pastoral care program. In addition to the Felician Sisters who manage the Home and live on campus, St. Anne Home also has a pastoral care coordinator and on-site chaplain. Daily Mass is held at 9:30 a.m. and rosary at 11:15 a.m. in our spacious chapel. Interdenominational services with visiting clergy are scheduled regularly.
The sisters and chaplain provide spiritual support for all campus residents and their family members. In addition to daily services, special celebrations are frequently held in the chapel. The pastoral care team can also be found visiting residents daily. The spiritual support offered by St. Anne Home is a source of great comfort and joy for both our residents and their families.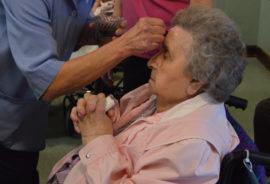 Mass Intentions
St. Anne Home accepts Mass intentions. Additionally, you may honor a loved one by lighting the sanctuary lamp in the chapel. Please contact the St. Anne Home Pastoral Care Office at (724) 837-6070 to reserve a week for your special intention or to schedule a Mass intention.
Journey to New Life
St. Anne Home has a long-standing tradition of offering a final blessing and heartfelt psalm that is sung by our staff, "The Journey to New Life." This unique ceremony was developed to give deceased residents a dignified way to depart from the Home for the last time. This special program provides an opportunity for the entire community of St. Anne Home to show respect and say farewell to a resident who has passed.
"The Journey to New Life" ceremony helps to demonstrate that death, as the next step of life's journey, is something to be celebrated.
To learn more about this program, please call the Pastoral Care Office at (724) 837-6070.