St. Anne Home Welcomes Knights of Columbus
POSTED Feb 27, 2017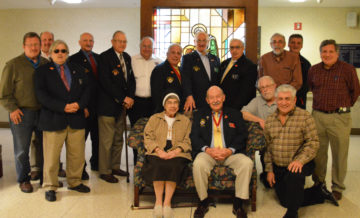 St. Anne Home, a Continuing Care Retirement Community that is a ministry of the Felician Sisters of North America, recently welcomed the Greensburg Diocesan Chapter of the Knights of Columbus to its facility.

The group spent time learning about the history and health care services of St. Anne Home before touring work that has been completed as part of its $16 million Nursing Facility Expansion and Modernization Project, which is expected to draw to a close in 2018.
"The Knights of Columbus have been friends of St. Anne Home for many years, so we were pleased to have this opportunity to receive them as guests at our facility. Although there are many individuals in the region who know who we are, seeing the work of our ministry first-hand offers true insight into how we are positively impacting the quality of life for those who are in our care. It is our hope that the Knights enjoyed the time they spent with us, and that they are looking forward to their next visit," remarked Jeffrey S. Long, President and CEO of St. Anne Home.