New Nursing Facility Rooms at St. Anne Home Are Approved and Blessed
POSTED Oct 31, 2016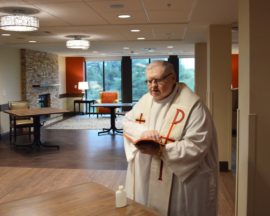 St. Anne Home, a Continuing Care Retirement Community that is a ministry of the Felician Sisters of North America, is pleased to announce that the Department of Health recently approved the completion of the second phase of its eight-phase project to expand and modernize the nursing facility. Twenty-two new resident rooms have been approved for occupancy. These rooms, located in Villa Benjamin and Villa Clare, will be used to move existing residents into while other areas of the facility are modernized.
Through this project, St. Anne Home will increase its total number of nursing facility beds from 125 to 155. Additionally, plans call for the addition of a second rehabilitation gym, the addition of a learning center for nurse aide training, more parking, new and expanded dining spaces, enlarged spa-like common bathing areas, the replacement of the facility's 51-year-old windows, as well as the replacement of the existing resident room furniture, flooring, and wall coverings. It is anticipated that the project will be completed in 2018.
In addition to modernizing the facility, these many changes will help to create "households" in St. Anne Home's eight Villas, a concept which follows a national model of deinstitutionalizing nursing homes in an effort to create more comfortable and inviting spaces for residents and their families to enjoy.
Immediately after learning the rooms had been approved for use, St. Anne Home President and CEO Jeffrey S. Long made arrangements to have the rooms blessed by St. Anne Home Chaplain Fr. Dennis Bogusz. Several residents were also invited to join in the prayers.
"After months of planning and preparation, St. Anne Home is very proud to be able to give our residents, their families, and our staff access to these beautiful new spaces that will help to offer greater dignity and comfort to those were serve. All the feedback we have received to date has been exceptionally positive, and we look forward to continuing our work throughout the rest of the facility."
-Jeffrey S. Long, St. Anne Home President and CEO